We're Designed to be Mixed!
You can enjoy all the mixing fun and amazing aromas of Dabble & Dollop because we specifically formulated them to be mixed together! And to do it we use our SmartScent™ ingredient, which blends natural oils with non-toxic, nature-identicals free of known allergens and phtalates. We couple that with the highest quality natural, plant derived ingredients, that are Leaping Bunny Certified Cruelty Free, Certified Tear Free, SLS Free, Gluten-Free, Vegan and importantly, 100% USA Made!
Unleash your children's creativity with the most luxurious, premium bath products ever created for kids. Dabble with fresh aromas and dollop on unique textures to create your own. How does it work? Check out the video below and then read why we love to mix it up!

We used our 20+ years of experience in the ingredients space to innovate a formula that returns fun back to the bath for kids - and peace of mind for parents who know their kids are "soaking safe."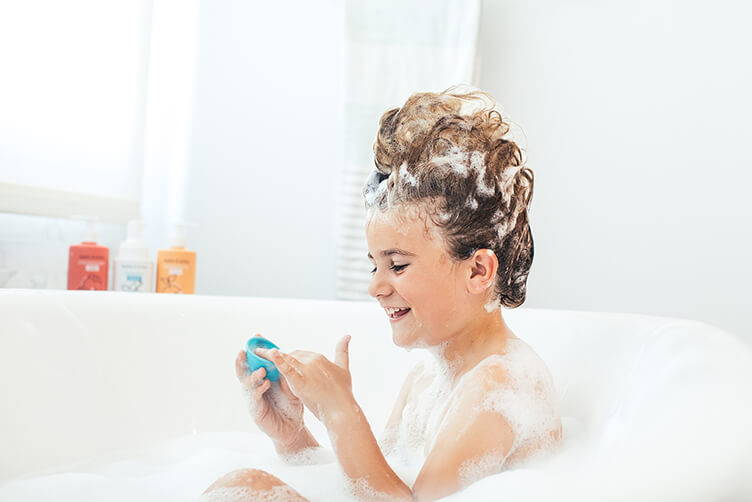 Dabble & Dollop is gentle enough for babies (we're certified Tear Free), but we know that as kids get older, those downy locks thicken up and get dirty! Really dirty.
As a mom, I struggled to find premium products that were gentle enough for kids' skin, but tough enough to get those heads squeaky clean
The products I saw were either cheap mass market "big box" brands, or baby products that worked when the kids were nine months old, not nine years old!
Does your 4th grader year old really want to smell like baby powder or chamomile and lavender?

I created Dabble & Dollop with the most gentle and most effective surfactants on the market. They clean great, yet are:
100% Natural
Non-toxic &
Safe Sustainably Sourced
Plant-derived
Our innovative blend gives Dabble & Dollop shampoo:
Thick Rich Lather
A Super Clean Rinse
No Sticky Residue
Our SmartScent

™ ingredient

leaves hair smelling like freshly picked strawberries, juicy tangerines and soothing vanilla - and now blueberry, lemon, coconut and honeydew melon!

Bring fun back to the tub and let you kids blend up their own combinations!
You'll rest easy knowing they're tapping into their creativity while getting squeaky clean with our safe, effective and sustainably-sourced shampoo.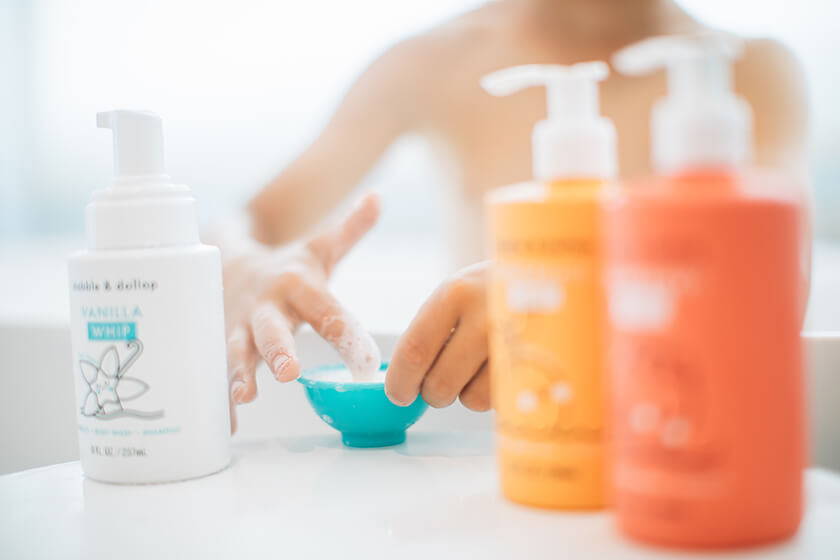 Perhaps my favorite use for Dabble & Dollop is as a body wash. Why? Well, it leaves my children smelling super clean from head to toe, and imparts a hint of authentic fresh fruit that lasts long after they get out of the tub (or shower). No crazy bubble gum or Jolly Rancher flavors here. Our innovative SmartScent™ ingredient delivers mild, fresh, authentic Strawberry, Tangerine, Vanilla, Blueberry, Honeydew, Lemon and Coconut!
Oh and the Vanilla Whip? It's the star of the show.
Tight foam and Defined Bubble Structure
Smoothes on with ease
Makes amazing combinations with its gel co-stars!
Imagine using a puff, washcloth, or just your hands and to make:
Orange Cream Pop
Strawberry Shortcake
Citrus Blast
Blueberry Lemonade
Vanilla Coconut Blueberry Lemon Surprise (admit it, you know they will try)
Hold on, I think I need to pour a glass of Rose, get in the bath, and give this a shot!
Dabble & Dollop Body Wash not only smells great, but it works great too. 100% natural, plant-derived surfactants sluice away grime while being exceedingly gentle on young (and old) skin.
We use 10 or fewer ingredients in every bottle, so the wash rinses clean, even if you get creative and mix them all together! And of course Dabble & Dollop products are:
Non-toxic
Paraben-free
Phthlate-free
SLS-free

You will know that what goes down the drain won't be harmful to your child's skin, or the environment!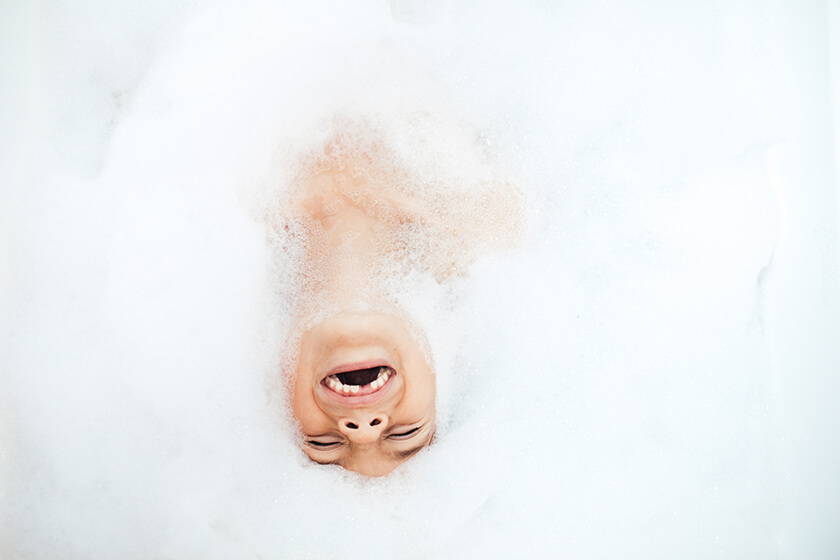 If you like your bubble bath in big pink industrial sized bottles with a crazy bubble face screaming at you to "GET CLEAN" - Dabble & Dollop is probably not for you.
But if you are someone that cares enough to spend a bit more, and give your kids a bubble bath experience, well you have come to the right place.
Bubble baths are really about one thing. Time.
The bubble bath holds a sacred position for many of us. And it starts when we are kids. It's that quiet(er) time when they unplug the devices and imagination creates a world of talking Shopkins, aquatic superheroes, and families of rubber duckies.
Dabble & Dollop makes for a subdued, more sophisticated bubble bath experience. Sure, your children can make gigantic mountains of bubbles that creep under your door and into the hallway. But we hope the scents and creativity calms them and allows them to create and mix their own bubbly concoctions that tie experience to memory.
That olfactory connection to memory was the key factor in choosing our nature identical fragrances. It allows your kids to safely mix products together (three today and more on the way) and create their own authentic bubble bath experiences. It's why developing our SmartScent™was so important to our products!
Kids need to unplug too. So why not unplug with something the can call their own? And hey, the bathroom clean up will be a lot easier as well.
We Are All Of These Good Things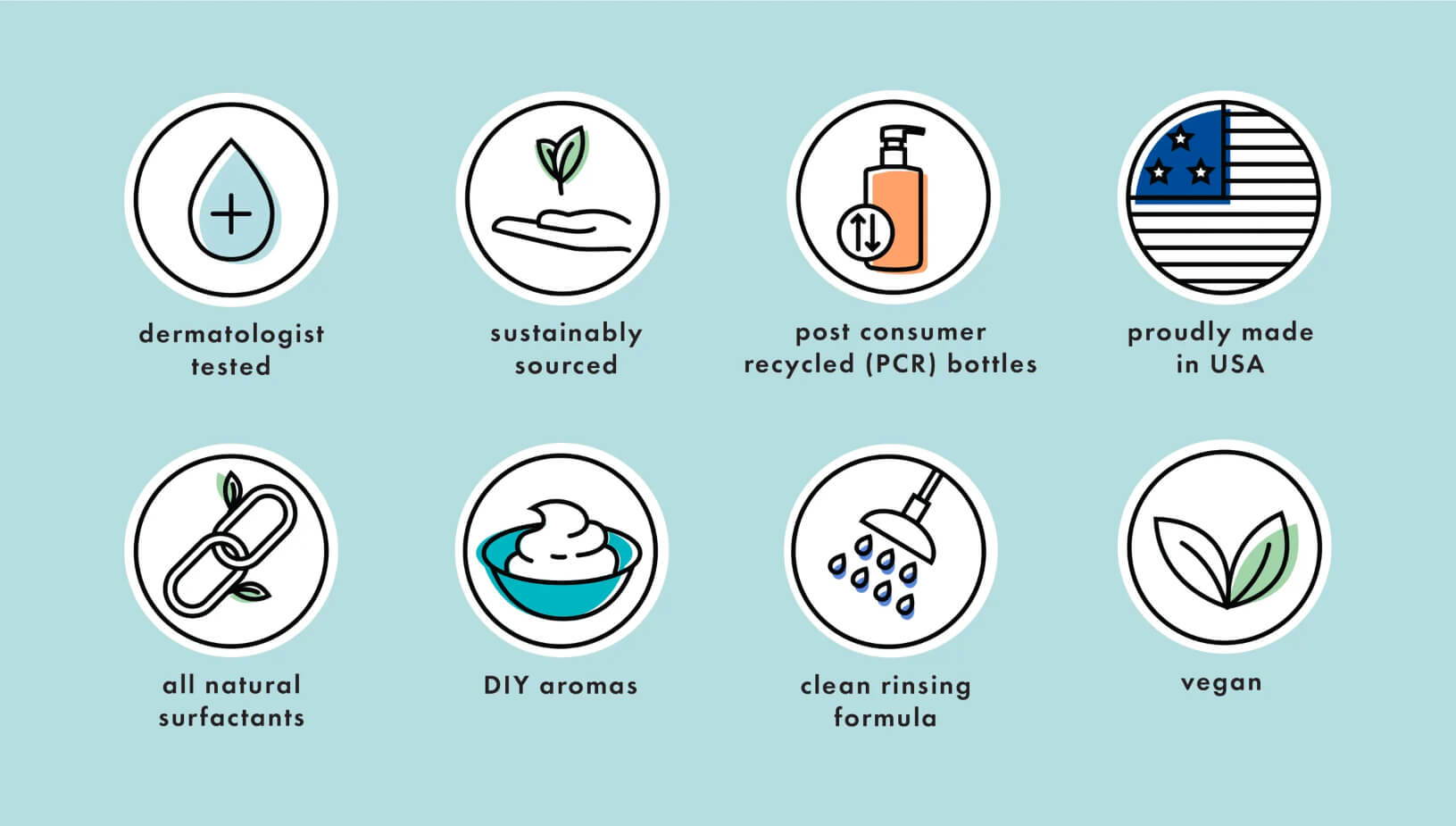 And Have None Of These Bad Things